Berries and cherries
With summer finally here, there are berries everywhere you look! Cherries, raspberries, blackberries, blueberries and strawberries, all rich in nutrients, naturally sweet, and packed with flavour. In fact, berries are so good for us that they're often referred to as superfoods. Read on to find out more about the health benefits of berries, and how you can enjoy them all year round.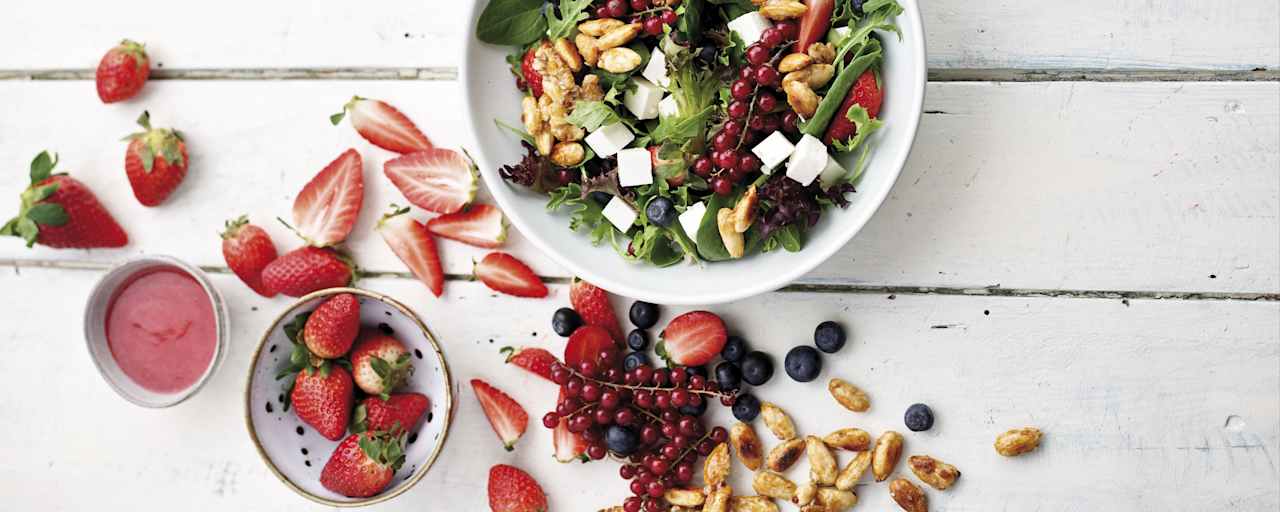 Berries and cherries are an important source of vitamins, minerals, antioxidants and fibre. They're particularly rich in Vitamin C, an antioxidant which is immune boosting and can help protect against heart disease.
Shopping for berries
Where possible, buy fresh berries when they're in season to enjoy them at their very best. They should be brightly coloured and firm to the touch, and buying organic varieties helps avoid pesticides. Out of season, buy frozen berries to enjoy them throughout the year.
At home
Berries are one of the most perishable fruits, but storing and prepping them in the right way can ensure they stay fresh for longer. Keep berries in the fridge and before consuming, wash thoroughly with cold water.
Freeze: wash and dry with paper towel. Cut large strawberries in halves or quarters and de-stone the cherries. Spread fruit in a single layer on a baking tray lined with baking paper, freeze for 2-3 hours and then transfer to freezer bags. Use the frozen fruit in smoothies, juices, sauces or desserts.
Jams or sauces: make sauces or jams and store as indicated in the recipes. The sauces can be frozen in ice cube trays for a couple of hours and then transferred to freezer bags.
Enjoy all year round
There are so many ways to enjoy berries, both in sweet and savoury dishes!
Breakfast and snacks: sprinkle homemade yoghurt with fresh berries, or use as a topping for cereal or granola. Use dried berries in cereal bars for a quick breakfast or snack. Berry smoothies are a great option for a complete breakfast to go. Try the Berry breakfast smoothie or the Mixed berry smoothie bowl.
Salads: add a pop of colour and flavour by tossing fresh berries into a big salad, or use fresh or frozen berries to make a vinaigrette. The Strawberry salad with caramelised sherry vinaigrette and the Duck and cherry salad are both delicious options for a summer meal.
Desserts: from indulgent ice cream to sweet, fruity pies, berries and cherries are made for desserts! Using sweet, in-season fruit also means you can reduce the amount of sugar you add. For a quick dessert you cannot go past the Fruity Dream.