TM6® modes make cooking even easier
Your Thermomix replaces up to 20 appliances in your kitchen. It can mill, knead, whisk, emulsify, blend, cook, chop, mix, heat, weigh, steam, stir. And now, the TM6 offers a range of additional functions, like sous vide, slow cooking and high temperature. Don't spend all night in the kitchen, let your Thermomix be your extra pair of hands.
Pre-clean
Cleaning your mixing bowl has never been easier. The Pre-Clean function is so simple to use, just place 1L of water into your bowl, add a small drop of dish washing liquid or 60ml of vinegar, start your mode and leave the rest to your Thermomix.
Kettle
The Kettle mode allows you to precisely heat up water, so you can now have the perfect cup of tea or cook pasta al dente. Your temperature selection ranges from 37°C to 100°C. So there's no need for kitchen bench clutter with an extra appliance.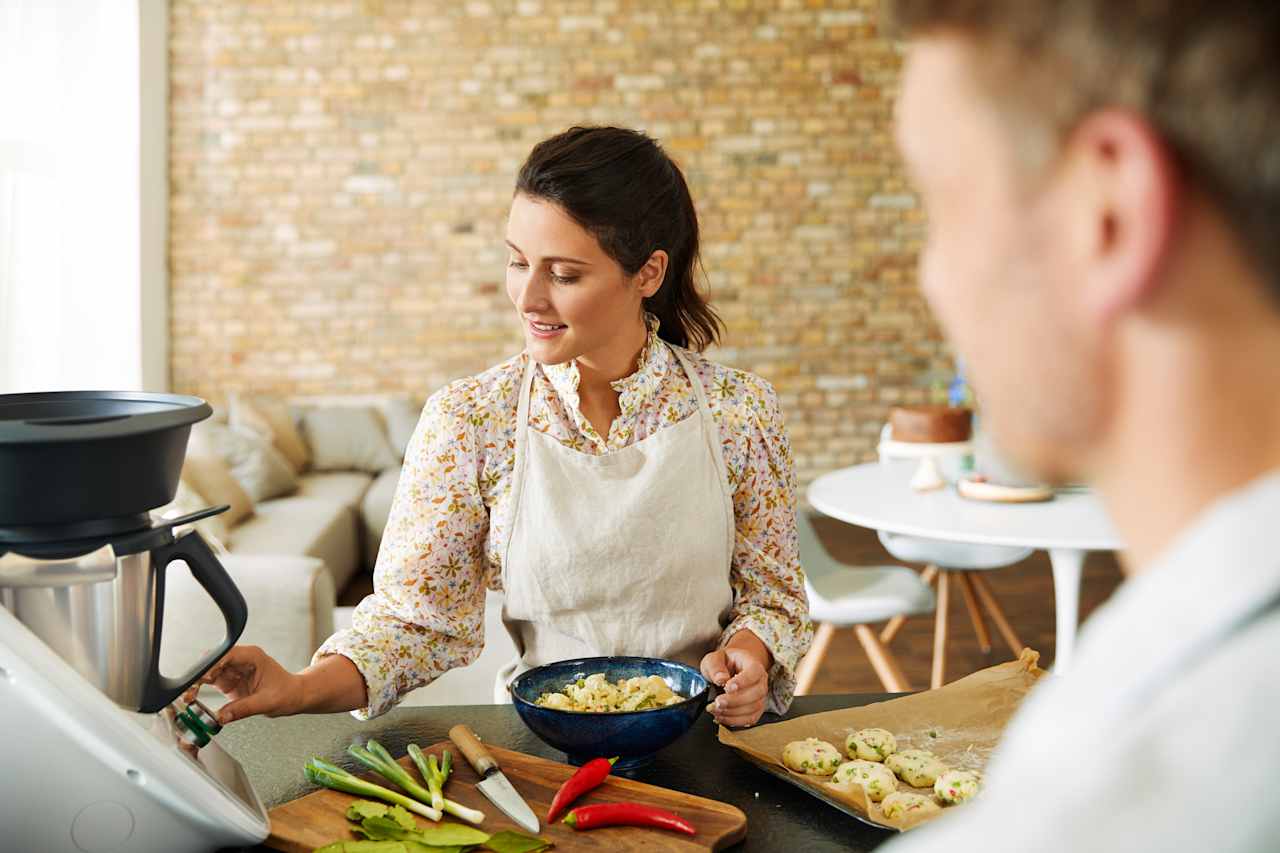 Blend
You can make perfect smoothies, soups and purées with your Thermomix by using the Blend mode. The mode is pre-set at 30 seconds and will slowly increase to full blending speed. You can increase the time should you want a smoother consistency. Try this recipe to discover how easy it really is.
Slow Cook
With the Slow Cook function now available on the smart, connected TM6, you'll be able to tenderise your meat to perfection. Create melt-in-your-mouth sensations from scratch with your extra pair of hands in the kitchen. We recommend this recipe as a must try.
Sous-vide
Bring a five-star restaurant to your home with the Sous-vide function. A technique favoured by many world-renowned chefs, you can now cook your meats and fish to perfection. It's tenderness made effortless!
Fermentation
The TM6 now makes it even easier to ferment so you can make healthy probiotic yoghurt from scratch. Try the Pot-set Yoghurt from your Basic Cookbook, it's a great starting point.
Guided Cooking Modes
In addition to the other functions available on your TM6, you also have access to modes that are available through guided cooking. The High Temperature mode will allow you to bring a whole new level of flavour to your food, caramelising it to perfection. Brown onions or sauté vegetables, enriching the flavour and caramelising the natural sugars you find in such foods.
Use the High Temp. to cook recipes such as Matt Sinclair's San Choy Bau, a must try from his Cookidoo collection, find it here.
On the other hand, the Sugar Work mode will sweeten up your life with delightful treats such as honeycomb, caramel and lolly pops. These Caramel Toffees are a cinch to make, and will be a hit with everyone.